The Philippine archipelago consist of 7,107 islands with a total land area of 300,000 square kilometers. The 11 largest islands contain 94% of the total land area. The largest of these islands is Luzon at about 105,000 km². It is also where the capital city of Manila is located. The next largest island is Mindanao at about 94,600 km². The Philippine archipelago is around 800 km from the Asian mainland and is located between Taiwan and Borneo.
The Philippine islands are divided into three groups: Luzon, Visayas, and Mindanao. The Luzon islands include Luzon itself, Mindoro, Palawan, Masbate, and other smaller islands. The Visayas is a group of several small islands, the largest of which are: Panay, Negros, Cebu, Bohol, Leyte, and Samar. Mindanao island includes Mindanao island itself and the Sulu Archipelago, composed of Tawi-Tawi, Basilan and Sulu. Each island group has a
Philippine travel
destination worth visiting.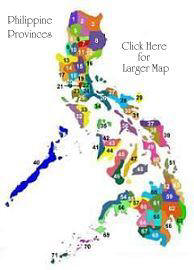 Climate in the Philippines is hot, humid, and tropical. The average yearly temperature is around 26.5?? Celsius. Filipinos generally recognize three seasons:
Summer: March to May
Rainy Season: June to November
Cold Season: December to February (moderate to folks from temperate countries)
Philippine Population: 86,000,000 / Per Capita Income: ,700
Literacy: 93%
HIV-AIDS Prevalence: >0.1%
Electricity: 220V (110V is also used mostly in major hotels)
The Philippine islands are volcanic in origin, being part of the Pacific Ring of Fire, and are mostly mountainous. The highest point in the Philippines is the peak of Mt. Apo in Mindanao, which is 2,954 meters above sea level. The second highest point can be found on Luzon at Mt. Pulog, with the peak 2,842 meters above sea level. The islands typically have narrow coastal plains and numerous swift-running streams and every island has sand beaches, but few open onto spacious lowlands. There are few large plains or navigable rivers.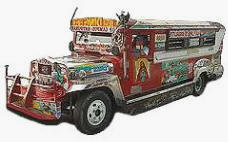 Public Transportation is available anywhere in the Philippines. Ferries for inter-island transfers, buses & taxis ply in major cities all over the Philippines and the ubiquitous jeepney can be found everywhere. In Metro Manila, light rail transit is available on main roads. In tertiary roads & small rural towns the tricycle is the transport of choice.

The official languages are Filipino and English. Filipino which is based on the Philippine dialect, Tagalog (the dialect of national capital region), is the national language. English is also widely used and is the medium of instruction in higher education in the Philippines. There are also 76 major local languages and more than 500 different dialects throughout the archipelago. 83% of Filipinos are Roman Catholic. The rest are made up of smaller Christian denominations, Moslems and Buddhist.

This guide previews each Philippine travel destination beginning with Manila, then Baguio City, Banaue Rice Terraces, Boracay Island, Cebu City, Davao City, Palawan Island, Pangasinan, Puerto Galera Beach, Bohol island and the World Heritage City of Vigan. Mabuhay!