Banaue rice terraces has been described as the eighth wonder of the world. Carved out of the hillside by Ifugao tribes people 2000 to 3000 years ago without the aid of machinery to provide level steps where the natives plant rice. And they are still in use today. In 1995, they were declared a UNESCO World Heritage Site. Banaue rice terraces stretch like stepping stones to the sky - some reaching an altitude of 1500m (4920ft). It is considered as one of mankind's greatest engineering feat. If the terraces were laid end to end, they would stretch half way around the world.
One of the major appeal of Banaue rice terraces to the local and international tourist are the many hiking trails in the area. There are many young locals, mostly college students who serve as guides. But with or without a guide, you will find the friendliness and warmth of the Ifugao people endearing.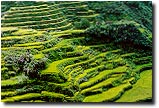 The Banaue Rice Terraces are now showing signs of erosion. Some areas needs maintenance as some of the new generation Ifugaos are migrating to the cities looking for better opportunities. That given, the terraces still never fails to awe the traveller.
Aside from Banaue rice terraces, nearby are 4 other similar Ifugao terraces:
BATAD rice terraces. Also located in Banaue, it is home to the spectacular tiered, amphitheatre-shaped terraces.
MAYOYAO rice terraces is similarly situated in Banaue. The organic Ifugao rice called Tinawon, in red and white variety, is harvested here in abundance.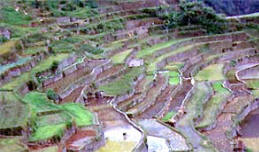 HAPAO rice terraces. Its stone-walled rice terraces date back to 650 AD and is located in Hungduan, where Napulawan terraces can also to be found.
KIANGAN rice terraces. It is home to two famous rice terraces sites namely: Nagacadan and Julungan, known for their size and visual impact.
Banaue rice terraces, although a bit far from Manila is one of the most awesome destinations in the Philippines. Visitors never regret spending time and resources to see its beauty and grandeur. One cannot but ponder how the Ifugaos made it all using just their bare hands...
How to get to Banaue Rice Terraces:
From Manila there are air-conditioned buses that go straight to Banaue, The trip takes about 9 hours. The Dangwa Transit have daily trips to Banaue Rice Terraces. Their terminals are located along Dimasalang St., Sampaloc, Manila and Aurora Boulevard, Cubao, Q.C. (Tel# 731-2879 & 410-1991). Also plying the Banaue route is Auto Bus (Tel# 735-8098) with terminals at España Blvd corner G. Tolentino St., Manila. The bus leaves at 10 PM daily and arrives at about 7AM. From Baguio City, there are also buses going to the Banaue Rice Terraces.
The trip will pass through the provinces of Bulacan, Nueva Ecija, Nueva Vizcaya then to Ifugao. Accommodation is no problem, there are several inns in town like the Banaue View Inn, the Banaue Hotel and other lodging houses with reasonable rates. Some private homes also accept tourist and transients for a lesser charge.