One of the great natural wonders of Asia, Halong Bay is the single most popular side trip from Hanoi. The beauty of the bay and its 3000 islands is so awesome that an excursion there should be considered an essential part of any visit to Northern Vietnam. A one or two day trip also makes a delightful and inexpensive romantic getaway if you meet someone special.
After five hours on a hellish road (which is slowly being repaved), you will be rewarded with some of the most spectacular and memorable sightseeing of your trip. Hire a boat in Halong City or Hong Gai to take you as far from shore as possible, and simply meander among the islands, fjords and inlets. There is plenty to explore in the 4000 square kilometer body of water, and it is easy to find peaceful places to swim, fish, or just relax without seeing another soul, yet surrounded by majestic scenery.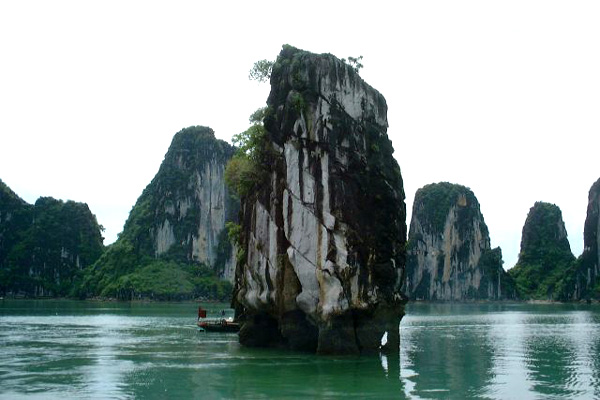 Despite what geologists may claim, the bay was actually created when an immense dragon plunged to Earth here before recorded history. Its mighty tail carved the great stone seabed violently before the creature flew away to the place where legends are born. This fable does not seem so far fetched as you sail among thousands of limestone outcroppings, which look like so many blades thrust deep into the mist from below the sea. Many are barren, weathered and rocky. Others are cloaked in vegetation so dense that it is impossible to see the stone beneath. At dusk, they all take on mysterious shades of gray, mauve and olive.
Several of the larger islands have extensive caves, which are open to visitors for about a dollar. Although they are poorly lit and have slippery pathways, they offer a little adventure to liven up a long, lazy day of boating.
The water is warm, clean and clear, so swimming is always a pleasure here. Be prepared with swimwear and a towel. (Going au naturalle will be horrifying to your boat crew and should not be considered an option.) On most boats it is necessary for you to bring your own beverages, even though the crew may cook your lunch aboard.
Travel agencies in Hanoi offer an overnight trip, including all transportation, two days of sailing on the bay, accommodations in a modest hotel and four good meals, all for under $25. If you have an extra day, you can add a night the wildlife sanctuary on nearby Cat Ba Island.